| | |
| --- | --- |
| | Hefei C&P Nonwoven Products Co., Ltd. |
Urology drape
Product Details:
| | |
| --- | --- |
| Properties | Medical Materials & Accessories |
| Brand Name | MJN |
| Model Number | |
| Place of Origin | China |
Payment & Shipping Terms:
| | |
| --- | --- |
| Price: | USD 0.00 / Piece |
| Minimum Order Quantity: | 0 |
| Port: | |
| Delivery Time: | 30 Days |
| Payment Terms: | L/C,T/T |
| Supply Ability: | |
Detailed Product Description
Urology drape:TUR drape with collection Pouch
Urology drape
1. Product :
a. Product Name/Family:Urology drape
c. Description:A variety of drape styles are available to meet your Urology surgeons needs.
Product Benefits:
- Several drape style available for varsatile use in a variety of Urology surgeons drape
- Creates an impervious barrier to inhibit fluild strikethrough and help eliminate the need to add other drape or towel layers,saving time and money.
- Fluid collection pouch minimizes risk of body fluid exposure to healthcare personnel and eliminates need to add pouch to the drape,saving time and money.
2.Product safety:
ISO 13458,CE Certificate
3.Product composition
Material:SMS,viscose chemical bonded nonwoven+polyropylene film,spunlaced fabric,polyethlene spunbonded+polyproplene film+viscose chemical bonded fabric
4. Labeling/Packaging:
Shipped in appropriate shipping cartons that is adequate to protect the components
against moisture,contamination,particulate,foreign matter,damage and/or loss.
5. Shelf Life/Storage Conditions/Indication
Shelf Life:3 years
Storage Conditions:Store in dry conditions,avoid direct sunlight,extreme temperatures
and high humidity.
Indication:
1).For single use only,discard after use.
2).Do not store in direct sunlight,at extreme temperatures or in high humidity.
3).Do not use if pachage is open or damaged.
6. Manufacturing sites:Class 100,000 Environmentally Controlled Clean Room
7. Sterilization:Ethylene Oxide
Packaging Details
sterile pack,25pcs/carton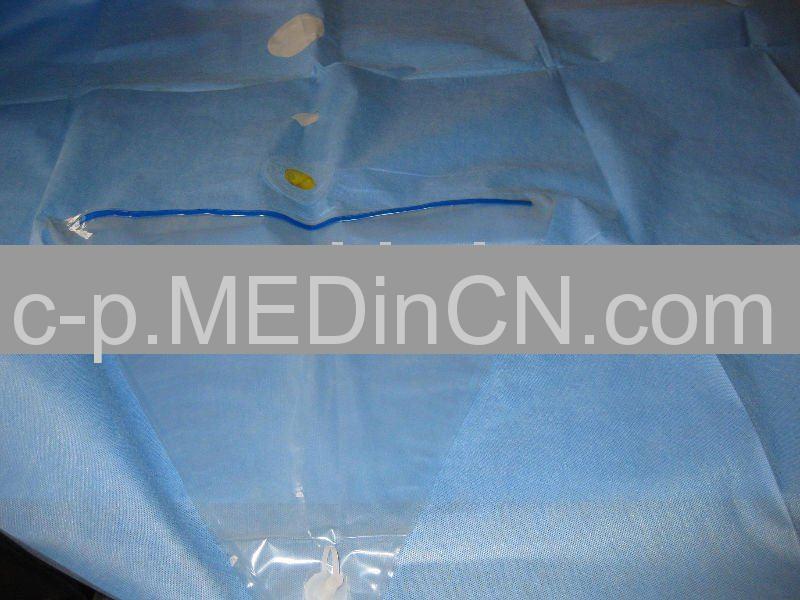 Urology drape
Other Products from this Supplier
Didn't find what you're looking for? Post an RFQ to let the Industry Specialists in MEDinCN.com to match the right suppliers for you!
Hefei C&P Nonwoven Products Co., Ltd. [Hefei, China]