| | |
| --- | --- |
| | Mident Industrial Co., Ltd. |
Wonderful LED Curing LIght
Product Details:
| | |
| --- | --- |
| Properties | |
| Brand Name | MID |
| Model Number | ML-VI |
| Place of Origin | China |
Payment & Shipping Terms:
| | |
| --- | --- |
| Price: | USD 0.00 / Piece |
| Minimum Order Quantity: | 0 |
| Port: | |
| Delivery Time: | 30 Days |
| Payment Terms: | T/T,Western Union |
| Supply Ability: | |
Detailed Product Description
curing light/dental led curing light ML-VI has three curing models, light intensity, cord/cordless (2200 mw/cm2, 5 watt LED)
Dental LED Curing Light ML-VI
Brief introduction:
curing light/dental led curing light has three curing models, light intensity, cord/cordless (2200 mw/cm2, 5 watt LED)
Detailed Introduction:
Color: White and Blue
Minimum Order Quantity: 10 piece/ pieces
Packaging Detail: carton
Delivery Detail: within 3 days after payment received
Supply Ability: 800 piece/ pieces per week
The specification for led curing light/ dental curing light/led lamp is:
Light intensity

2200 mw/cm,5 watt LED

Alert

The battery's voltage is down and needs recharge

Operation Note

Cord/cordless inchangeable when running out of the battery, the unit can be operated directly with the switching power adapter.

Three Preset Programs

a. Mode 1: full mode-output with entire power in the whole the process

b. Mode 2: ramp-up mode-output rise gradually from 30% to 100% in the one third treatment, and then lasts in full power in the other two third treatment.

c. Mode 3: pulse mode. Output with zero-power and entire power by turns every half seconds

Warranty

Fully guaranteed for one year

Strongpoint

If the product is not working over 30s, it can automatically turn into the inactive state to save battery.

Automatically memorize the latest used working model and time.

Technical

Working voltage: 100-240V, AC, 50-60HZ

The machine should be use to curing and whitening. Whiten function: press the mode 3S to enter the whitening mode, then it will be flicker, at the same time, the LCD screen show with minute, the time key can move the time up and down, you can chose the time from 0min to 30min by yourself, if press the time-key for a long time, the light intensity will be increase by degrees or descending with 20%.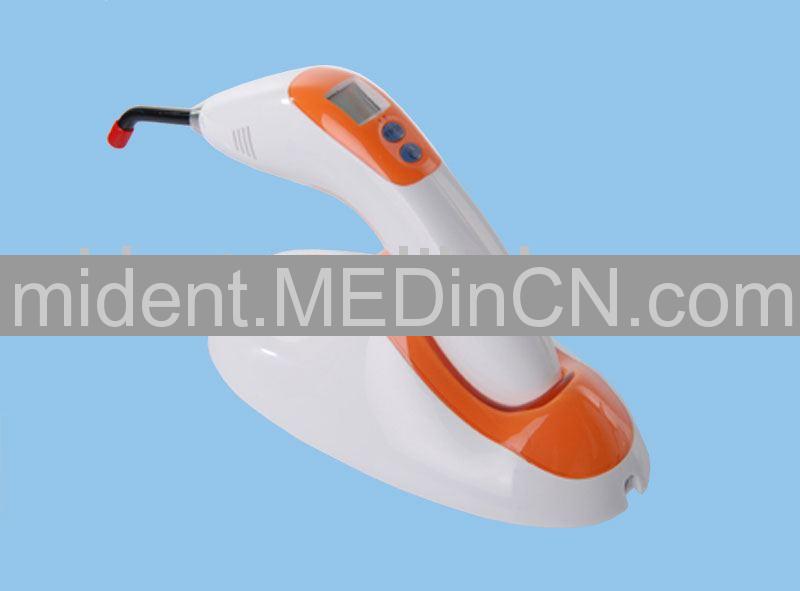 Wonderful LED Curing LIght
Other Products from this Supplier
Didn't find what you're looking for? Post an RFQ to let the Industry Specialists in MEDinCN.com to match the right suppliers for you!
Mident Industrial Co., Ltd. [Zhengzhou, China]