| | |
| --- | --- |
| | NMS Technologies Co., Ltd. |
JUC Spray Underwear Cleaner
Product Details:
| | |
| --- | --- |
| Properties | |
| Brand Name | JUC |
| Model Number | 30ml |
| Place of Origin | China |
Payment & Shipping Terms:
| | |
| --- | --- |
| Price: | USD 0.00 / Piece |
| Minimum Order Quantity: | 0 |
| Port: | |
| Delivery Time: | 30 Days |
| Payment Terms: | L/C,T/T |
| Supply Ability: | |
Detailed Product Description
Sterilization - sterilize 99.9% of germs; Non toxic and non harmful to human body ;No resistance or tolerance to bacteria;
JUC Antimicrobial Spray Dressing for Underwear
Two types of microorganisms, or "germs," exist in our environment: good germs (also called "resident flora" or helpful bacteria) and bad germs (technically called "pathogens" or disease -causing bacteria, viruses, and parasites).
Both types of germs reside on practically every surface of our bodies and homes. Good bacteria, which are abundant on our skins and gastrointestinal tracts, keep the bad bacteria from multiplying out of proportion and making us sick.
When we, attempt to annihilate germs from our lives, we actually want to get rid of the harmful bacteria that sustain disease-spreading microbes.
Fortunately, these pathogens tend to proliferate in specific areas of our bodies and our dwellings, and if we can be diligent enough to focus on sanitizing these "danger zones," we can drastically lower our chances of contracting deadly infections.
Research revealed that harmful germs flourish in hampers and washing machines, and unwashed undergarments are one of their favorite hangouts.
Spray JUC to get rid of the harmful bacteria from our underwear.
JUC is safe and can be also used in underwear for a long term (6 months) to remove the source of infection, block the infection routes, control the genital environment and prevent ascending infection. In addition, JUC can make up for the limitations of "ointment" in inconvenient use: local spray avoids smearing, so JUC is convenient to use with good compliance and it does not pollute the underwear.
JUC is sprayed on the washed underpants to form an invisible antimicrobial film, adsorbing and killing pathogenic microorganisms, which provides underpants with long-acting antimicrobial function, maintaining long aseptic condition on underpants and infectious routes of microorganisms will be decreased.
Usage: Spray JUC on the washed underpants before wearing.
MOQ: 3,000pcs
Certificate: FDA, CE, ISO 13485 Certificates
We have a complete quality management system and have established a quality assurance system in accordance with ISO 13485: 2003.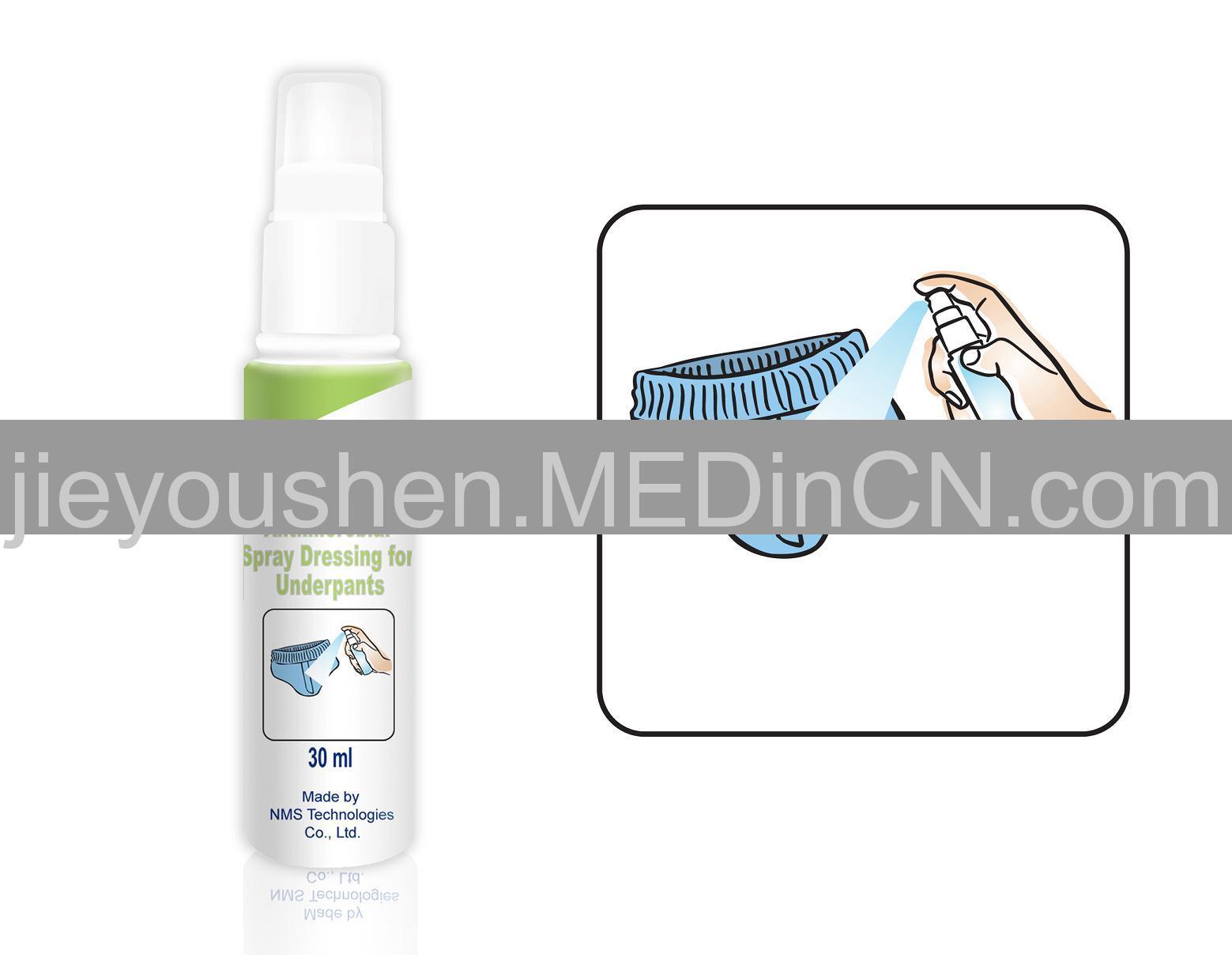 JUC Spray Underwear Cleaner
Other Products from this Supplier
Didn't find what you're looking for? Post an RFQ to let the Industry Specialists in MEDinCN.com to match the right suppliers for you!
NMS Technologies Co., Ltd. [nanjing, China]