Nanjing Kim-Lehman Medical Instrument Company Ltd.
Syphilis (TP) Ab rapid test/TP test
Product Details:
| | |
| --- | --- |
| Properties | |
| Brand Name | |
| Model Number | strip |
| Place of Origin | China |
Payment & Shipping Terms:
| | |
| --- | --- |
| Price: | USD 0.00 / Piece |
| Minimum Order Quantity: | 0 |
| Port: | |
| Delivery Time: | 30 Days |
| Payment Terms: | L/C,T/T,Western Union |
| Supply Ability: | |
Detailed Product Description
Syphilis (TP) Ab Combo rapid test strip
Qualitative results in 10-20 minutes.
accurate 99%
professional manufacturer
One Step Anti-Syphilis Test Device is a rapid direct binding test for the visual detection of anti-syphilis antibodies in serum as an aid in the diagnosis of syphilis infection. Test results are read visually without any instrument. It is based on the principle of double antigen sandwich immunoassay for determination of syphilis antibodies in serum. TP specific antigens are precoated onto membrane as a capture reagent on the test region. During the test, specimen is allowed to react with the colloidal gold particles, which have been labeled with TP specific antigens. Antibodies to TP, if present, a purple colored band will develop on the membrane in proportion to the amount of TP antibodies present in the specimen. Absence of this purple colored band in the test region suggests a negative result. To serve as a procedural control, a purple colored band in the control region will always appear regardless the presence of antibodies to TP Purified recombinant syphilis antigens are employed to identify anti-Syphilis antibodies specifically. This one step test is very sensitive and only takes about 10 to 15 minutes .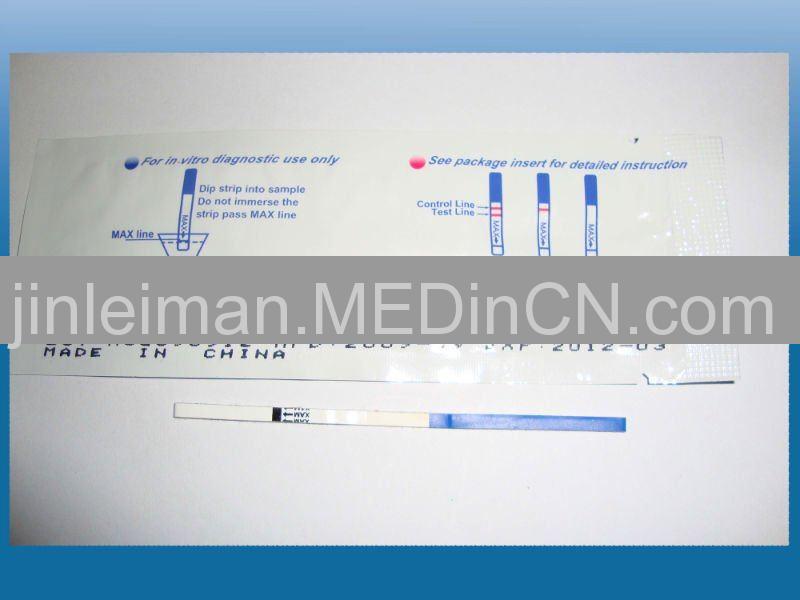 Syphilis (TP) Ab rapid test/TP test
Other Products from this Supplier
Didn't find what you're looking for? Post an RFQ to let the Industry Specialists in MEDinCN.com to match the right suppliers for you!
Nanjing Kim-Lehman Medical Instrument Company Ltd. [Nantong, China]