| | |
| --- | --- |
| | Wkea Med Supplies Corp |
H. pylori(HP) Stool Ag Test Cassette
Product Details:
| | |
| --- | --- |
| Properties | |
| Brand Name | |
| Model Number | PI-012 |
| Place of Origin | China |
Payment & Shipping Terms:
| | |
| --- | --- |
| Price: | USD 0.00 / Piece |
| Minimum Order Quantity: | 0 |
| Port: | |
| Delivery Time: | 30 Days |
| Payment Terms: | T/T,Western Union |
| Supply Ability: | |
Detailed Product Description
H. pylori Stool Ag Test Cassette
1.Specimen: stool
2.Sensitive and accurate
The H. pylori(HP) Stool Antigen Test Cassette is an in vitro qualitative immunochromatographic assay for the rapid detection of Helicobacter pylori antigens in human stool specimen. The test results are intended to aid in the diagnosis of H. pylori infection, to monitor the effectiveness of therapeutic treatment and to confirm the eradication of H. pylori in peptic ulcer patients.
Stool specimens should be collected in containers that do not contain media, preservatives, animal serum or detergents as any of these additives may interfere with the HP Ag Test.Specimens may be stored at 2-8°C for 3 days without interfering with the assay performance. For long-term storage of specimens, -20°C or colder is recommended. Repeated freezing and thawing of specimens is not recommended and may cause erroneous results. Do not store specimens in self-defrosting freezers.
Specificity: 210/(210+4)= 98%
Sensitivity: 63/(63+3)=95 %
We can supply all kinds of rapid test kits, such as HCG,TOXO,RV,CMV,HSV,TORCH IgM,Chlamydia,
HIV1,2,Syphilis, HBsAg, HBsAb, HBeAg, HbeAb, HBcAb, FOB, TP, Malaria, etc.
Packaging Details
Cassette: 25 pcs/boxStrip: 50 pcs/box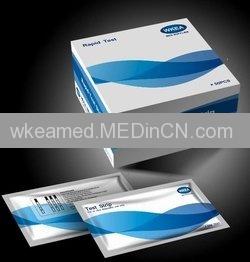 H. pylori(HP) Stool Ag Test Cassette
Other Products from this Supplier
Didn't find what you're looking for? Post an RFQ to let the Industry Specialists in MEDinCN.com to match the right suppliers for you!
Wkea Med Supplies Corp [changchun, China]