| | |
| --- | --- |
| | Race Medical & Beauty Equipment Co., Ltd. |
Curve perfect slimming machine,U2b
Product Details:
| | |
| --- | --- |
| Properties | |
| Brand Name | RACE |
| Model Number | U2B |
| Place of Origin | China |
Payment & Shipping Terms:
| | |
| --- | --- |
| Price: | USD 0.00 / Piece |
| Minimum Order Quantity: | 0 |
| Port: | |
| Delivery Time: | 30 Days |
| Payment Terms: | T/T,Western Union |
| Supply Ability: | |
Detailed Product Description
*EMS slimming machine,weight loss equipment
*12sets body shape pre-programs
*10sets channel
*Well effect to 3-8kg
The main information of this slimming machine as follows:
Function:
1. Increasing circulation, improving cellulites, improving fat and edema.
2. Metabolizing fat, tighten loose muscle, shaping slimming body easily.
Principle:
1.Strengthen circulation: Selecting acupuncture acu-point of enhancing circulation, unfixed point scanning from the understratum of the muscle to middle layer and surface, increasing liquid flowing speed of vein, artery and lymphatic, discharging extra water, waster of cells metabolize and toxin by the method of perspiration and urinate.
2.Loose weight & slimming: Promoting the muscle shrinking and diastole to consume extra energy by the method of consume oxygen during muscle exercise to realize weight loose. Slimming is through strengthen muscle caused through skipping and sit-up, stimulating the firming and concentrated movement produced by muscle to help loose droop and inelastic muscle of the body recover tighten and firm, so that to achieve the slimming effect.
Characteristic of the appliance:
It has 10 impulse output outlets combined with 20pieces conductions of different parts of the body, and specially adding the function of enhancing circulation, weight loose and slimming with 12 pre-established programs.
Enhancing circulation function: 4 groups computer programs suit for different physical finesses.
Loose weight: 4 groups computer programs suit for different over weight.
Slimming: 4 groups computer programs suit for different grades of loose muscle.
Technical Specification:
Operating voltage: 12V1±10%,50Hz,DC
Power consumption: 15W
Dimension:45.5cm(L)×19cm(W) ×23.5cm(H)(machine)
N.W: 2.4kg(machine)
Dimension:53cm(L)×30.5cm(W) ×29.5cm(H)(export package)
G.W(including accessories): 6.6kg(machine)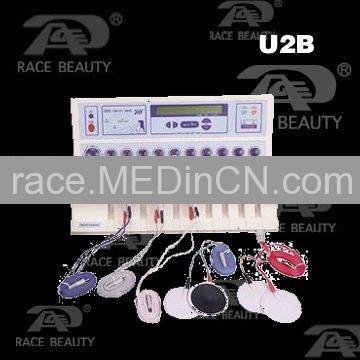 Curve perfect slimming machine,U2b
Other Products from this Supplier
Didn't find what you're looking for? Post an RFQ to let the Industry Specialists in MEDinCN.com to match the right suppliers for you!
Race Medical & Beauty Equipment Co., Ltd. [Guangzhou, China]