shenzhen welsbio Biological technology development Co., LTD Co., Ltd.
shake bed series
Product Details:
| | |
| --- | --- |
| Properties | |
| Brand Name | welsbio |
| Model Number | shake bed series |
| Place of Origin | China |
Payment & Shipping Terms:
| | |
| --- | --- |
| Price: | USD 0.00 / Piece |
| Minimum Order Quantity: | 0 |
| Port: | |
| Delivery Time: | 0 Days |
| Payment Terms: | |
| Supply Ability: | |
Detailed Product Description
The combination ofTHERMOSTATIC INCUBATORand THERMOSTATIC VIBRATOR with multi-function will save
?space greatly within few invests.
The shell is made of ABS engineering plastics manufacture. The mirror surface stainless steel cavity body
?module will never rust.
The humanized design of oblique control panel with wide screen back light LCD will provide wonderful
?visual effects.
Equipped with runtime parameter memory function, avoiding tediously operating and providing password
?locking which will cease artificial misoperation.
Auto restore when re-powerd, and continue the program according to the original settings automatically
?without any influnce from the interrupted power source.
Auto stoppage protective device ensure the security of human body when the door is open.
Auto stop heating and warning when actual temperature is 3? over pre-setting.
Advanced big moment electric motors guarantee continues performance with out maintenance.
The entire machine static sound design, the static electricity spurts models the box body ultra,
?the armored glass may the Windows, the molding luxurious be artistic greatly.

Rotary Speed
40?400rpm

Rotary Speed Precision
±1rpm

Vibration Range
?25mm

Maximum Capacity
100ml×20 or 250ml×16 or 500ml×12

Standard Configuration
50ml×5 100ml×5 250ml×4 500ml×3

Size of Rocking Plate
450×410(mm)

Timing Scope
0—999?Hour?

Temp. Control Scope
4-60?

10?~30?(Temperature of Environment:10?~30?)

Temp. Control Precision
±0.1??Homoeothermic?

Temp. Evenness
±1?

Several significant way
LCD

Number of Rocking Plates
1(accessories available)

Shape & Dimensions
780×682×560(mm)

Packing Size
840×840×740(mm)

Weight
100kg

Capacity
480×450×320(mm)(70L)

Power
580W

Power Supply
AC 220V±10% 50?60HZ

msn : welsbio@hotmail.com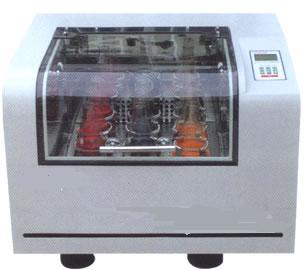 shake bed series
Other Products from this Supplier
Didn't find what you're looking for? Post an RFQ to let the Industry Specialists in MEDinCN.com to match the right suppliers for you!
shenzhen welsbio Biological technology development Co., LTD Co., Ltd. [China]