| | |
| --- | --- |
| | Jiangsu Sanwe Medical Science and Technology Co.,Ltd |
SW-3101 Mastopathy Treatment Apparatus
Product Details:
| | |
| --- | --- |
| Properties | |
| Brand Name | SANWE |
| Model Number | SW-3101 |
| Place of Origin | China |
Payment & Shipping Terms:
| | |
| --- | --- |
| Price: | USD 0.00 / Set |
| Minimum Order Quantity: | 1 |
| Port: | |
| Delivery Time: | 10 Days |
| Payment Terms: | |
| Supply Ability: | 50 Set/Sets per WEEK |
Detailed Product Description
SW-3101 Mastopathy Treatment Apparatus
Introduction
It uses modern electronic technology and traditional Chinese medicine meridian theory, with the combination of electric pulse stimulation, infrared heat radiation, drug iontophoresis, so that it can improve the circulation of the breast and open a new way to treat breast disease.
Applicable scope:
Therapy for breast ache disease, mastitis and galactophore hyperplasia, lactogenesis for lactation women, breast dysplasia
Therapeutic Function of Principles
Electric pulse stimulus
based on the principle of acupuncture imitation, different stimulation modes and stimulation intensity are adopted and the efficacy is gained as follows: it makes nerves produce inhibition reaction and thus acesodyne is achieved; reduce mental strain, stimulate muscle spasticity, strengthen partial tissue movement, accelerate blood stimulate circulation, stimulate muscle contraction and resume motional function.
Infrared thermal radiation
The probe directly acts on the mammary gland, abdominal lesion (for swelling and inflammation), and issues the infrared light to accelerate local blood circulation and achieve the effect of dissipating blood stasis, softening hard tissue, and subduing the inflammation very quickly.
Magnetic resonance mechanism
Magnetic line of force issued by the probe acts upon the lesion which can change the enzyme activity in vivo and affect the intermediate paramagnetic shape of enzyme reaction. So it can be used for dissipating blood stasis, analgesic, anti-inflammatory, regulating endocrine.
Drug iontophoresis
It can give drug iontophoresis treatment to the affected part directly with targeted drug delivery, direct absorption, the drug in high concentration, and better treatment, adding a route of administration, which can reduce side effects of oral administration drugs.
Treatment with dual-band of sound and video
It can modulate high-frequency wave acupuncture through low-frequency pulse at the top, which changes with music frequency, can make patients at ease and enjoy the music and the beautiful screen in the process of treatment, eliminate tension, alleviate pain and promote the coordination of endocrine so as to improve the treatment effect greatly.
Packaging Details
wooden or as you request Gross weight:50 KG Volume:0.473 CBM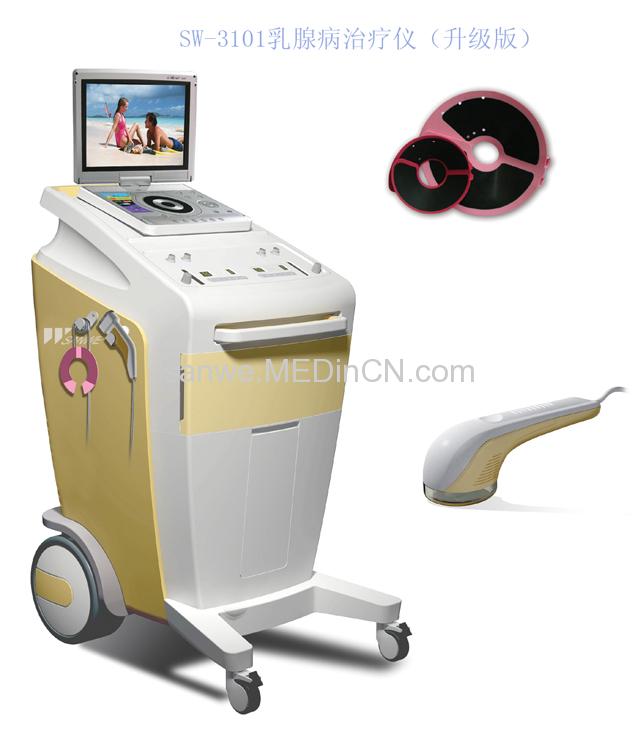 SW-3101 Mastopathy Treatment Apparatus
Other Products from this Supplier
Didn't find what you're looking for? Post an RFQ to let the Industry Specialists in MEDinCN.com to match the right suppliers for you!
Jiangsu Sanwe Medical Science and Technology Co.,Ltd [Xuzhou, China]