| | |
| --- | --- |
| | Jiangsu Sanwe Medical Science and Technology Co.,Ltd |
SW-3501 Male sexual dysfunction therapeutic apparatus (Silver Walrus)
Product Details:
| | |
| --- | --- |
| Properties | |
| Brand Name | SANWE |
| Model Number | SW-3501 Silver Walrus |
| Place of Origin | China |
Payment & Shipping Terms:
| | |
| --- | --- |
| Price: | USD 0.00 / Set |
| Minimum Order Quantity: | 1 |
| Port: | |
| Delivery Time: | 10 Days |
| Payment Terms: | |
| Supply Ability: | 50 Set/Sets per WEEK |
Detailed Product Description
SW-3501 Male sexual dysfunction therapeutic apparatus (Silver Walrus)
1) Apparatus Introduction:
SW-3501 Silver Walrus is a new type of non-invasive and non-traumatic high-tech therapeutic apparatus with the combination of modern digital technology and science principle of channels and collaterals of traditional Chinese medical science. It applies extra corporeal therapy to user which is safe, painless, and non-dependent. And it has many physiological therapeutic techniques, such as electro low frequency stimulation, negative pressure suction, pneumatic massage, water massage, strong current stimulation and medicated fluid bath.
2) Applicable Range
Widely used for diagnoses and treatment for male sexual dysfunction:
Erectile dysfunction, ejaculation obstacles, sexuality barriers, defective ejaculation, minor-penis, delayed puberty of male teenagers,and sexual function degeneration of the middle and old male.
Prostate Disease:
Prostatitis, prostatic hyperplasia, prostate pain syndrome
3) Apparatus Features
In addition to the characteristics of Small Dolphin, the human adjuvant treatment systems with dual-band of sound and video can provide beautiful image and sound effect of high-quality, and create a comfortable therapeutic atmosphere, which is not only effective to eliminate patients' psychological stress, but also conducive to treatment and rehabilitation.
4) Therapeutic Functions
Stimulation by special electrode and low frequency pulse
Vacuum negative pressure suction
Pneumatic massage
Water massage
Medical bath therapy
Strong current stimulation
5) The Principles of Therapeutic Functions
Stimulation by Special Electrode and Low Frequency Pulse
According to traditional Chinese Medicine Meridian Theory, the instrument can stimulate sex-related and prostate-related acupoints of people, adjust function of brain cortex, active spinal central system, speed up the penis nerve conduction velocity, strengthen the contraction capacity of glands, and effect the treatment of ejaculation obstacles, erectile dysfunction, prostate disease and the improvement of the secondary development of sexual organs.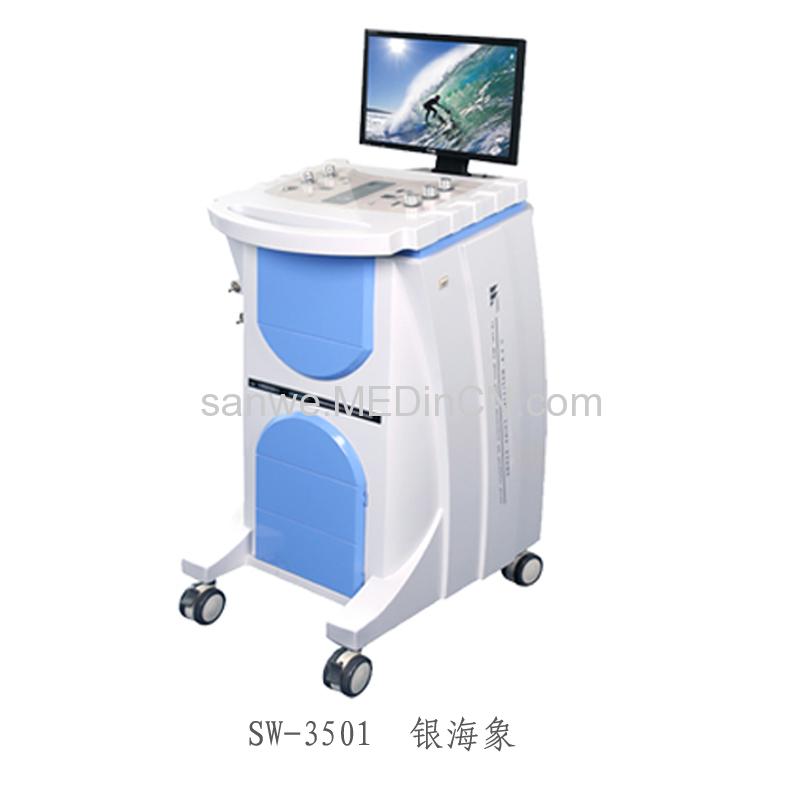 SW-3501 Male sexual dysfunction therapeutic apparatus (Silver Walrus)
Other Products from this Supplier
Didn't find what you're looking for? Post an RFQ to let the Industry Specialists in MEDinCN.com to match the right suppliers for you!
Jiangsu Sanwe Medical Science and Technology Co.,Ltd [Xuzhou, China]