| | |
| --- | --- |
| | Jiangsu Sanwe Medical Science and Technology Co.,Ltd |
SW-3600 Male Sexual Dysfunction Diagnostic Apparatus
Product Details:
| | |
| --- | --- |
| Properties | |
| Brand Name | SANWE |
| Model Number | SW-3600 |
| Place of Origin | China |
Payment & Shipping Terms:
| | |
| --- | --- |
| Price: | USD 0.00 / Set |
| Minimum Order Quantity: | 1 |
| Port: | |
| Delivery Time: | 10 Days |
| Payment Terms: | |
| Supply Ability: | 50 Set/Sets per WEEK |
Detailed Product Description
SW-3600 Male Sexual Dysfunction Diagnostic Apparatus
1) Apparatus Introduction
It merges neurology, psychology, theory of automatic control, ultrasonic technology and computer-automatic digital display technology in one. It also possesses such detection methods as psychological evaluation, electro-physiological nerve examination, Doppler ultrasonic blood examination, nocturnal penile tumescence (NPT) Record which can be widely used in male sexual dysfunction detected.
2) Examination Range
The instrument is applied to the clinical diagnosis of psychological sexual dysfunction, neurological dysfunction, vascular and other organic sexual dysfunction.
3) The Function and Principle of Examination
Electric-physiological nerve examination
The instrument stimulates on the dorsal penile nerve and measures the conduction velocity and amplitude of reflex arc by using myoelectricity / evoked potential in order to know nerve conduction function, and thus to achieve the position oriented diagnosis of the nervous system disease.
Doppler Ultrasonic Blood Examination
Transmits ultrasonic wave to human vessel through ultrasonic probe, and the average rate of blood flow can be measured by probe receiving echo signal. PFI can be worked out by computer automatically, detecting whether sexual dysfunction is caused by vascular lesion. It also can be used for the detection of systolic and diastolic pressure.
Sexual Psychological Evaluation and Diagnosis
Use conventional international questionnaire to know the patients' real performance when making love and evaluate the degree and pathogeny of sexual dysfunction, which can give reference for doctors to make effective treatment.
NPT Records
While the patient is sleeping, the HOLTER box will record the times, persistent period, rigidity, length, circumference of penis when it erects and the change of blood volume. The corresponding images of diagnostic result can be created automatically by connecting with computer, to help doctors fix on the erectile dysfunction style of the patient, which is the most effective method to distinguish psychological erectile dysfunction and organic erectile dysfunction.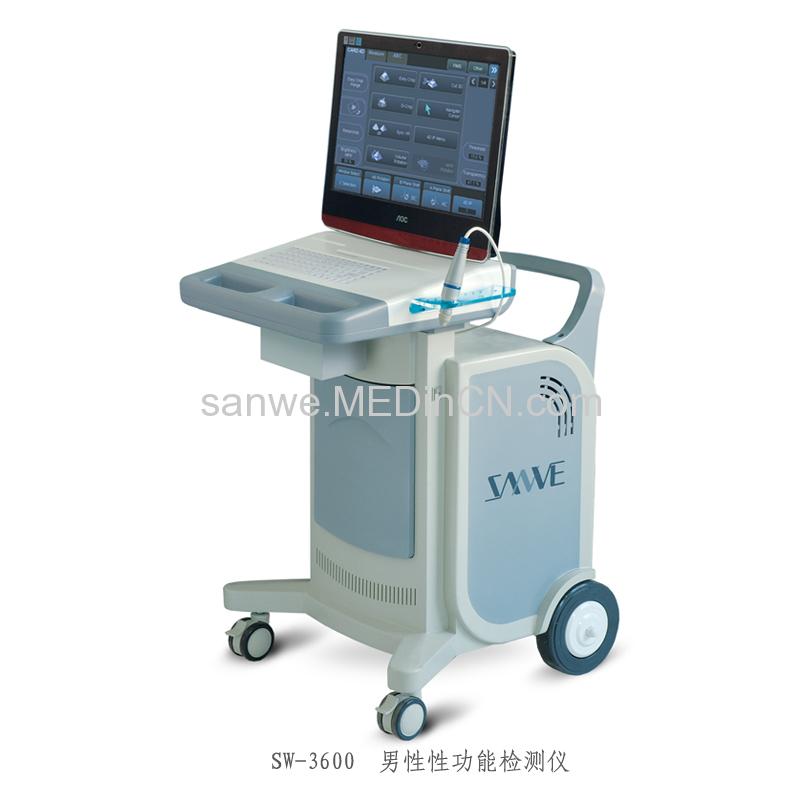 SW-3600 Male Sexual Dysfunction Diagnostic Apparatus
Didn't find what you're looking for? Post an RFQ to let the Industry Specialists in MEDinCN.com to match the right suppliers for you!
Jiangsu Sanwe Medical Science and Technology Co.,Ltd [Xuzhou, China]