| | |
| --- | --- |
| | Nanjing Perlong Medical |
High Frequency Mobile X-ray equipment (PLX101D)
Product Details:
| | |
| --- | --- |
| Properties | |
| Brand Name | Perlong |
| Model Number | PLX101D |
| Place of Origin | China |
Payment & Shipping Terms:
| | |
| --- | --- |
| Price: | USD 0.00 / Unit |
| Minimum Order Quantity: | 1 |
| Port: | |
| Delivery Time: | 10 Days |
| Payment Terms: | |
| Supply Ability: | 1000 Unit/Units per YEAR |
Detailed Product Description
Usage of mobile x ray machine
This mobile x ray system is combined with high-frequency X-ray photography diagnostic equipment, which is used in radiology, orthopedics, wards, emergency rooms, operating rooms, and ICU, etc.The mobile x ray machine is a mobile diagnostic equipment which can make radiography on human body, such as head, limbs, chest and spine. The machine is especially suitable for photography without power supply, such as special outdoor environment and emergent incidents.
Features of mobile x ray machine
1. Use a assembly high-frequency high-voltage generator, kV closed-loop control and mAs digital closed-loop control technology, microprocessor Real-time control, ensure dose accuracy and repeatability.
2. kV,mAs ,two buttons adjustment, LCD display, parameter memory.
3. With 50 preset anatomy programs, and parameters can be modified by the user.
4. With high voltage protection, tube over-current protection, output overload protection function, more secure and reliable.
5. The structural design of ergonomics, simple and easy to operate.
6. Use special high-quality battery as the machine power supply, once it is fully charged, about taking 200 pieces of radiology photography on the normal expose, avoid the fluctuations in net power supply to impact on the film effectiveness, the photography quality is more stable and reliable.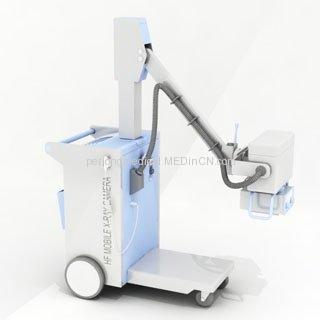 High Frequency Mobile X-ray equipment (PLX101D)
Other Products from this Supplier
Didn't find what you're looking for? Post an RFQ to let the Industry Specialists in MEDinCN.com to match the right suppliers for you!
Nanjing Perlong Medical [nanjing, China]