| | |
| --- | --- |
| | Jiaxing U-Life Medical Device Technology Co., Ltd |
One Step Rapid Test HCG Pregnancy Test Strip
Product Details:
| | |
| --- | --- |
| Properties | |
| Brand Name | U-life |
| Model Number | |
| Place of Origin | China |
Payment & Shipping Terms:
| | |
| --- | --- |
| Price: | USD 0.00 / Piece |
| Minimum Order Quantity: | 0 |
| Port: | |
| Delivery Time: | 0 Days |
| Payment Terms: | |
| Supply Ability: | |
Detailed Product Description
Product Description
INTENDED USE
Pregnancy Test Strip is an in vitro diagnostic (IVD) qualitative test for rapid detection of HCG in urine. This test is designed for self-testing use only.

ASSAY PROCEDURE
1. Collect urine specimen with a clean dry container either plastic or class.
2. Remove the strip from its protective pouch.
3. DIP the strip in the urine sample for a few seconds. Make sure that the urine level is below "Max" line.
4. As soon as solvent front reached the membrane area place the strip on a clean surface.
Wait for 5 minutes to read result, even though some positive results may be observed within a minute. Do not try to interpret results after 10 minutes.

INTERPRETATION OF RESULTS

Negative: No apparent band in the test region (1 and 2), Only one red band appears in the control region (C). This indicates that no HIV1/2 antibodies have been detected.

Positive: In addition to the band in the control region (C), other one or two red bands will appear in the test region (1 and 2). This indicates that the specimen contains HIV1/2 antibodies.

Invalid: If no band appears in the control region(C), regardless of the presence or absence of line in the test region (T). It indicates a possible error in performing the test. The test should be repeated using a new device.

Sensitivity: 100%
Specificity: 100%

STORAGE AND STABILITY
Store Pregnancy Test Strip at temperature ranges 2-30° C in the sealed pouch. Refer to the expiration date for stability. Do not freeze.

Format: Strip, cassette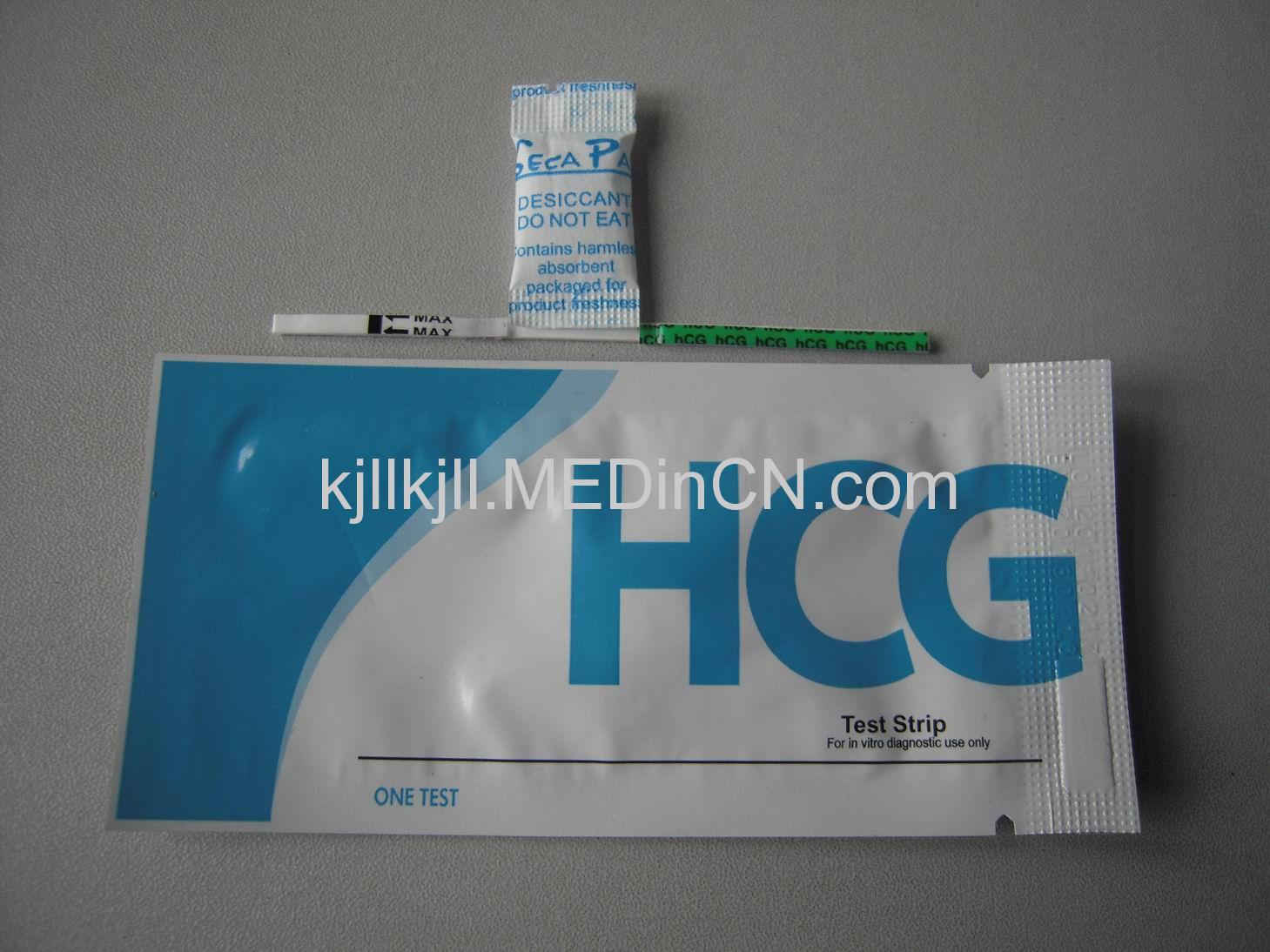 One Step Rapid Test HCG Pregnancy Test Strip
Other Products from this Supplier
Didn't find what you're looking for? Post an RFQ to let the Industry Specialists in MEDinCN.com to match the right suppliers for you!
Jiaxing U-Life Medical Device Technology Co., Ltd [China]