| | |
| --- | --- |
| | Sciencare International Limited |
Rapid Saliva Alcohol Testing Strip
Product Details:
| | |
| --- | --- |
| Properties | |
| Brand Name | sciencare |
| Model Number | |
| Place of Origin | China |
Payment & Shipping Terms:
| | |
| --- | --- |
| Price: | USD 0.70 / Piece |
| Minimum Order Quantity: | 5000 |
| Port: | |
| Delivery Time: | 10 Days |
| Payment Terms: | |
| Supply Ability: | 1,000,000 Piece/Pieces per MONTH |
Detailed Product Description
alcohol test strip
INTENDED USE
Rapid Saliva Alcohol Test Strip is intended for use as a rapid method to detect the presence of alcohol in saliva for blood alcohol concentration (BAC) greater than 0.02%. It has been published that the concentration of alcohol in saliva is almost equal to that in blood.
The rapid test is intended for the semi-quantization of ethyl alcohol in human saliva. To confirm the concentration of positive specimens, an alternate, non-enzymatic technology such as headspace gas chromatography should be used.
PRINCIPLE
Rapid Saliva Alcohol Test Strip is based on the high specify of alcohol oxidase for ethyl alcohol in the presence of peroxides and enzyme substrate such as tetramethylbenzidine (TMB).
The distinct color on reactive pad could be observed in less than 20 seconds after the tip was contacted with saliva samples with the ethyl alcohol concentration greater than 0.02%. It should be pointed out that other alcohols such as methyl, propane and ally alcohol would develop the similar color on the reactive pad. However, these Alcohols are not normally present in saliva.
Packaging Details
100tests/kit,2000tests/carton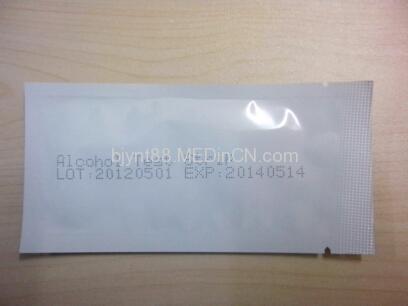 Rapid Saliva Alcohol Testing Strip
Other Products from this Supplier
Didn't find what you're looking for? Post an RFQ to let the Industry Specialists in MEDinCN.com to match the right suppliers for you!
Sciencare International Limited [beijing, China]