| | |
| --- | --- |
| | HANGZHOU TJ INDUSTRIAL GAS-EQUIPMENT CO.,LTD. |
VPSA Oxygen Plant
Product Details:
| | |
| --- | --- |
| Properties | |
| Brand Name | T&J |
| Model Number | TJO |
| Place of Origin | China |
Payment & Shipping Terms:
| | |
| --- | --- |
| Price: | USD 0.00 / Set |
| Minimum Order Quantity: | 1 |
| Port: | |
| Delivery Time: | 30 Days |
| Payment Terms: | |
| Supply Ability: | 100 Set/Sets per YEAR |
Detailed Product Description
Working principle
Vacuum pressure swing adsorption air separation oxygen adsorption process of vacuum desorption is a super-atmospheric pressure, the oxygen molecular sieve to select the nitrogen adsorption in the air under pressure, but is not the adsorption of oxygen enriched product gas at the top of the adsorption tower output at the same time, another adsorption tower vacuum regeneration. When the adsorption tower in the adsorption state of near saturation prior to the tower automatic decompression desorption regeneration and other renewable adsorption tower pressurized adsorption system to take oxygen. This cycle, the two adsorption towers alternately repeated oxygen production and regeneration to achieve continuous preparation of oxygen.
Oxygen and nitrogen close to the boiling point, both difficult to isolate, in the gas phase with enrichment. The vacuum pressure swing adsorption oxygen generator usually only a purity of 90 to 95% oxygen (oxygen limit of 95.6% purity, the rest is argon), also known as oxygen-rich. Compared with the cryogenic air separation unit, which can be produced from the purity more than 99.5 percent oxygen.
Technical Features
Oxygen scale of 10000m3 / h below the oxygen, lower power consumption, smaller investment;
Civil small amount of the installation cycle is shorter than the cryogenic air separation unit;
Device operation and low maintenance costs;
Devices run high degree of automation, open parking is convenient, less operating personnel;
Device operation stability, safe;
Simple operation, the main components are the selection of internationally renowned manufacturers;
The use of imported oxygen zeolite, superior performance, long life;
Technical indicators
Oxygen production: 100 ~ 10000Nm3 / h
Oxygen purity: ? 90 to 95% (according to user requirements to be adjusted within the range of 30 to 95 percent)
Oxygen pressure: ? 20KPa (supercharged)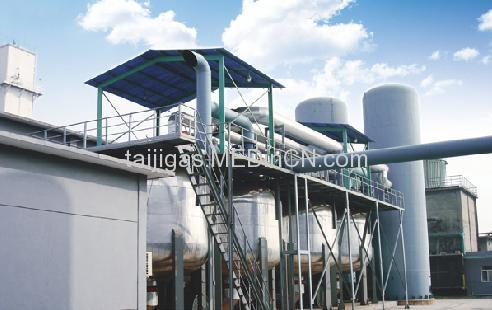 VPSA Oxygen Plant
Other Products from this Supplier
Didn't find what you're looking for? Post an RFQ to let the Industry Specialists in MEDinCN.com to match the right suppliers for you!
HANGZHOU TJ INDUSTRIAL GAS-EQUIPMENT CO.,LTD. [China]