| | |
| --- | --- |
| | ARI Medical Ltd |
MJ160 Number obviously mold incubator
Product Details:
| | |
| --- | --- |
| Properties | |
| Brand Name | |
| Model Number | |
| Place of Origin | China |
Payment & Shipping Terms:
| | |
| --- | --- |
| Price: | USD 0.00 / Piece |
| Minimum Order Quantity: | 0 |
| Port: | |
| Delivery Time: | 0 Days |
| Payment Terms: | |
| Supply Ability: | |
Detailed Product Description
MJ160 Number obviously mold incubator
Specification:
Model MJ160 MJ250
Dischargeable capacity 186L 250L
Controls the scope warm 5-50°C 5-50°C
Controls the precision warm ±1°C ±1°C
Compressor power 124W 145W
Thermal rating 300W 350W
The power source exchanges 220V 50Hz to exchange 200V 50Hz
Ultraviolet lamp power 30W 40W
Explanation:
The mold incubators have the refrigeration and the heating bidirectional thermo regulating system, the temperature controllable function, are professional products for the examination and the scientific research, the educational department essential bench-scale equipment and so on medicine, environmental protection, chemical industry, agriculture, widely applies in low temperature constant temperature experiment, raise experiment, environmental testing and so on.

Main feature:
1)The box body uses the polyamine ester on the spot foaming foam plastics as thermal insulation material, has the strong antijamming ability to external hot (cold) the source.
2)The cavity is manufactured with the engineering plastics formation craft, has the strong corrosion resistance ability.
3)Entire glass type box gate make observation work convenience.
4)Has the protection refrigeration compressor, the control wiring design has the power failure protection and 4 minute time delay functions.
5)The temperature is automatic controlled, uses the LED monitor demonstration digit intuitively clear.
6)Antiseptic fixed time by unprogrammability when controls basis user to establish, seven time fixed
7)Ultraviolet ray disinfection.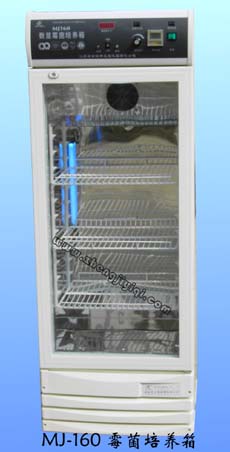 MJ160 Number obviously mold incubator
Other Products from this Supplier
Didn't find what you're looking for? Post an RFQ to let the Industry Specialists in MEDinCN.com to match the right suppliers for you!
ARI Medical Ltd [China]