| | |
| --- | --- |
| | Chengdu Dahongli Machinery Co.,Ltd |
Cone Crusher
Product Details:
| | |
| --- | --- |
| Properties | |
| Brand Name | |
| Model Number | |
| Place of Origin | China |
Payment & Shipping Terms:
| | |
| --- | --- |
| Price: | USD 0.00 / Piece |
| Minimum Order Quantity: | 0 |
| Port: | |
| Delivery Time: | 45 Days |
| Payment Terms: | |
| Supply Ability: | |
Detailed Product Description
PYY-series Single-cylinder Hydraulic Cone Crusher
Production Introduction:
PYY series single-cylinder hydraulic cone type crushers are suitable for medium and large sized sand and mineral processing enterprise. They are used for the second, third, fourth crushing of mineral, rock and bedrock material. When it crushes materials, the crushing wall and rolling wall are driven by the deflection sleeve to complete the process. Material enters the crushing chamber through the upper hopper and is discharged after crushing and collected by another hopper. This series is characterized by high capacity, low cost, delicate structure, simple operation, less maintenance, broad application and high efficiency.
Product Characteristics:
1. Broad application. It can crush relatively harder rock. The main engine can have chambers of various shapes by changing the liner plate, so it can be used in many situations. Medium crushing type has stable and large hopper and can be used for class 2 crushing (even coarse particles).
2. Products have good shape. The optimized crushing frequency, eccentricity and laminated crushing make the crushed material at the hopper maintain good shapes.
3. The production cost is lower. Optimal design of liner plate reduces unit steel consumption. Laminated crushing and discharge of material increases operating efficiency.
4. Maintenance is simple. Button control can use hydraulic pressure to realize stepless adjustment of the hopper. It can be carried out during the production to make operation simple. After fine finishing, the wear part needs not to be packed in assembly.
5. High degree of automation.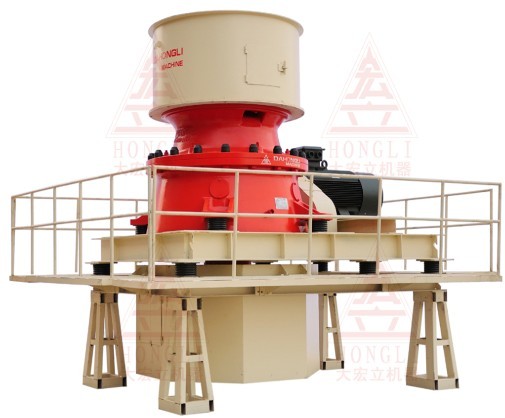 Cone Crusher
Other Products from this Supplier
Didn't find what you're looking for? Post an RFQ to let the Industry Specialists in MEDinCN.com to match the right suppliers for you!
Chengdu Dahongli Machinery Co.,Ltd [Chengdu, China]