| | |
| --- | --- |
| | Zhong ke Base International Medical Technology(Beijing) Co.,Ltd |
BASE850A ICU Ventilator
Product Details:
| | |
| --- | --- |
| Properties | |
| Brand Name | Basemed |
| Model Number | BASE850A |
| Place of Origin | China |
Payment & Shipping Terms:
| | |
| --- | --- |
| Price: | USD 0.00 / Set |
| Minimum Order Quantity: | 1 |
| Port: | |
| Delivery Time: | 5 Days |
| Payment Terms: | |
| Supply Ability: | 1000 Set/Sets per DAY |
Detailed Product Description
12.1 inch TFT color screen , big screen could show more information.
Screen could be rotated freely, suitable to operate at any angle and height
Integrated expiration module could be sterilized whole, ensure use safely and no cross-infection.
Expiration valve adopt no-water design, guarantee the precious detection.
Could show Paw-t?Flow-t?Volume-t?Paw-V?Flow-V five waveform at the same time, also could show one or several waveform according to our operation.
Curve size, time scale, pressure-flow ratio adjustable, watch the details more good.
Curve pause function, could watch details.
Sensitive flow, pressure two trigger function, could effect at a same time.
Build-in inspiratory and expiration flow sensor, durable and water coagulation resistant.
Automatically inspiratory synchronous nebulizing function, nebulizing time adjustable;
100% Oxygen inspiratory function, oxygen inspiratory time is adjustable.
Three-level visual and audible alarm, with concise words describing problems
Alarm record with clearance function , could record the last 100 pieces of information, show alarm grade, alarm time and the alarm parameter.
Pressure, volume, time respiratory mode security, could inspect pressure in inspiratory phase, volume, time exceed the regulated value, turn into expiratory, ensure patient safety.
Volume security function, keep the minimum tidal volume in pressure mode.
Adjust MMV function automatically, adjust inspiratory pressure and breathing frequency, approaching the target tidal volume and minute ventilator.
Low noise medical air Compressor, very stable performance, safe and reliable.
VGA connector could output the screen signal to other screen
High quality trolley with concise structure and good appearance, easy to assembly and detach.
Volume Control Ventilation (VCV)
Assisted/Controlled Pressure Control Ventilation (PCV),
Assisted/Controlled Pressure Support Ventilation (PSV),
SIMV(VCV)+PSV
SIMV(PCV)+PSV
Mandatory Minute Ventilation (MMV)
Continuous Positive Airway Pressure?CPAP?
Backup apnea ventilation
Application scope: Pediatric and adult
Driven mode: pneumatically driven and electronically controlled
Display?12.1 TFT screen
Working mode: Pressure and volume
Ventilation wave type: squire wave, deceleration wave
FiO2: 21% to 100%
PEEP/CPAP: 0 to 40 cmH2O
Inspiratory Sensitivity:
Flow triggered: 0.5 to 20 L/min, OFF
Pressure triggered: -1 to -20 cmH2O, OFF
Tidal Volume: 20 to 2000 mL
Breath frequency: 1 to 100 bpm
I:E Ratio: 5.0 : 1 to 1 : 5.0
Inspiratory plateau: 0 to 50%
Inspiratory Flow Wave Shape(VCV): Rectangular wave and Decelerating wave
SIGH: 1.0 to 2.0
Breath frequency(SIMV): 2 to 40bpm
Inspiratory time (SIMV): 0.1 to 12 S
Pressure Support Ventilation (PSV): 0 to 40 cmH2O
Expiratory Sensitivity for PSV : 10% to 75% of the initial flow
Maximum Inspiratory time (PSV): 1.0 to 8.0 S
Pressure Control Ventilation(PCV): 0 to 40 cmH2O
Minimum Tidal Volume(PCV and PSV): 50 to 1500 mL
Backup Rate (PSV): 2 to 40 bpm
Object Tidal Volume(MMV): 20 to 2000 mL
Ventilation volume(MMV): 0.5 to 40.0 L/min
Nebulizer time: 30 minutes
Breathing wave: Pressure vs time curve?Flow vs time curve,Volume vs time curve?Pressure vs volume loops,Flow vs volume loops
Expiratory tidal volume:,
Breath frequency(bpm),
PEEP:
FiO2
MV
Insipiratory Tidal volume(TV_Insp):
I:E ratio:
Freq_indepen:
MV_Indepen:
Pmean
Pflat:,
Airway Pressure
Ppeak,
Minute Ventilation,
Oxygen concentration &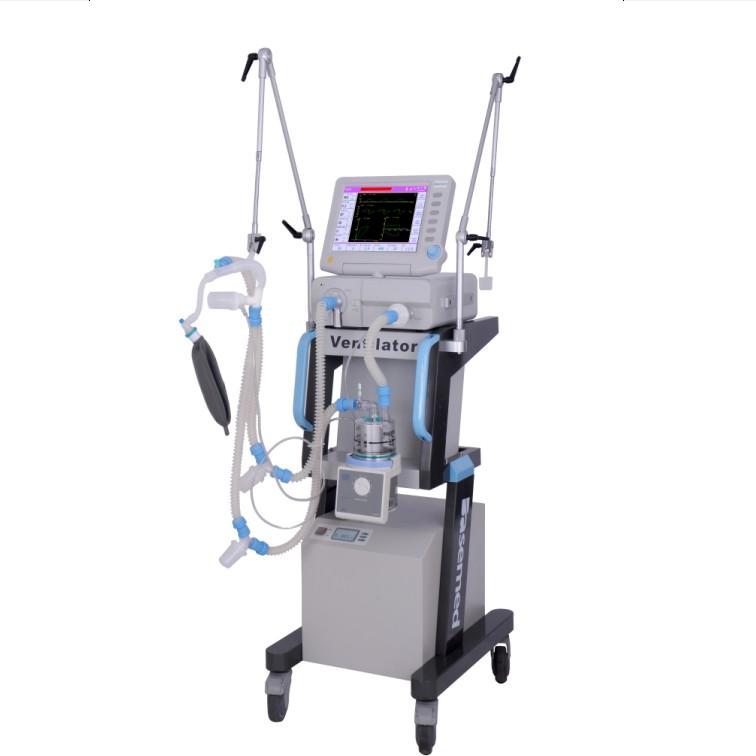 BASE850A ICU Ventilator
Other Products from this Supplier
Didn't find what you're looking for? Post an RFQ to let the Industry Specialists in MEDinCN.com to match the right suppliers for you!
Zhong ke Base International Medical Technology(Beijing) Co.,Ltd [Beijing, China]