| | |
| --- | --- |
| | MEHECO CO. LIMITED. |
Polymer Bandages
Product Details:
| | |
| --- | --- |
| Properties | |
| Brand Name | MEHECO |
| Model Number | MHC002 |
| Place of Origin | China |
Payment & Shipping Terms:
| | |
| --- | --- |
| Price: | USD 0.00 / Roll |
| Minimum Order Quantity: | 1000 |
| Port: | |
| Delivery Time: | 30 Days |
| Payment Terms: | |
| Supply Ability: | |
Detailed Product Description
This product is made of knitted fiberglass fabric or polyester fabric, and water-activated polyurethane resin. It uses environment friendly materials, and mainly used for the external fixation of fracture and common orthopedics. This product has many advantages comparing with plaster bandage. It is the upgraded and replaced product of the traditional plaster bandage. Fiberglass Casting Tape has higher strength and is easier to be cut than Polyester Casting Tape. Polyester Casting Tape can be burnt thoroughly, so it is more environmentally friendly. How to use: 1. Wear the gloves and choose the proper specifications. 2. Use the cast padding or stockinet on the fixed part. 3. Open a bag and take out the cast, DIP in room temperature water at 4-6 seconds and press 2-3 times, take it out and squeeze out the excess water. 4. Wrap the cast spirally according to the need, keep the proper tension. Wrap 2-4 layers at non-weight-bearing position and 4-6 layers at weight-bearing position. 5. Shape the wrapped cast according to the need. The solidify time is 3-5 minutes, 20 minutes later the cast reaches the enough strength. 6. Use the electric cast saw to cut and remove it. Characteristics: High Strength. Light Weight. Quick Solidifying and Good Mouldability. Easy Operating. Excellent X-ray Radiolucency. Good Air-permeability. Water-resistant. Environment Friendly Materials. Clean and Comfort. Notes: 1. The operator should wear gloves to avoid the polyurethane touching and adhering the skin. 2. Open one bag at one time and use the cast immediately. Don't open multi-bags at the same time, so that to avoid weakening the strength. 3. The cast need to be cut and removed by the electric cast saw. 4. Pay attention to avoid breakage of the bags during transportation and storage, for touching moisture in the air can cause the cast to solidify. STORAGE Be careful not to break the package Store KNT bandage at room temperature The shelf-lift: 3 years
Packaging Details
Model Specifications Packing KCFS2 5.0cm? 360cm 10 rolls/box? 12 box/carton KCFS3 7.5cm? 360cm 10 rolls/box? 12 box/carton KCFS4 10.0cm? 360cm 10 rolls/box? 9 box/carton KCFS5 12.5cm? 360cm 10 rolls/box? 9 box/carton KCFS6 15.0cm? 360cm 10 rolls/box? 9 box/carton Orthopedic Casting Tape Color Various Casting Tape Meet ISO 13485, CE, FDA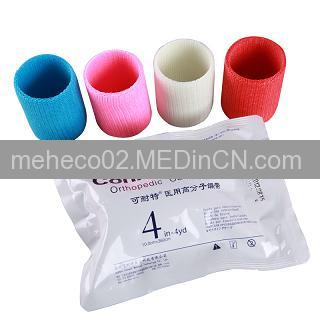 Polymer Bandages
Other Products from this Supplier
Didn't find what you're looking for? Post an RFQ to let the Industry Specialists in MEDinCN.com to match the right suppliers for you!
MEHECO CO. LIMITED. [China]