Zhejiang Orient Gene Biotech Co., Ltd
Dengue IgG/IgM Rapid Test Kit
Product Details:
| | |
| --- | --- |
| Properties | |
| Brand Name | HEALGEN;ORIENT GENEN;DS(DIAGNOSTAR) |
| Model Number | |
| Place of Origin | China |
Payment & Shipping Terms:
| | |
| --- | --- |
| Price: | USD 0.00 / Piece |
| Minimum Order Quantity: | 10000 |
| Port: | |
| Delivery Time: | 25 Days |
| Payment Terms: | |
| Supply Ability: | 500000 Piece/Pieces per WEEK |
Detailed Product Description
INTENDED USE
Dengue IgG/IgM Rapid Test Kit is a rapid immunochromatographic assay for the simultaneous detection of IgG and IgM antibodies to dengue virus in human whole blood, serum or plasma.
The assay is used as a screening test for Dengue viral infection and as an aid for differential diagnosis of primary and secondary infections in conjunction with other criteria.
SUMMARY AND EXPLANATION
Dengue fever is one of the most important mosquito-borne diseases in the world in the terms of morbidity and mortality. Dengue fever virus (serotypes 1 – 4) belongs to the group flavivirus, and is transmitted in nature by day-biting Aceder mosquitos. The most important mosquito vector is highly domesticated and urban species, Aedes aegypti. Primary Dengue infection, also known as Dengue Fever, is the most common type of dengue illness.
It is associated with mild to high ffever, headache, muscle pain and skin rash. Secondary infection is known as Dengue Hemorrhagic Fever (DHF) or Dengue Shock Syndrome, and often results in high fever and in many cases,
with hemorrhagic events and circulatory failure.
The fatality rate in patients with Dengue Shock Syndrome can be as high as 44%. Dengue presents typically as a fever of sudden onset with headache, retrobullar pain, pain in the back and limbs (break-bone fever), lymphaderopathy and maculopaplar rash. Patients diagnosed with dengue in endemic areas generally have secondary infection, whereas patients in non-endemic areas are usually diagnosed with primary infection. Specific antibody responses to Dengue virus enable serodiagnosis and differentiation between primary and secondary dengue infections.
Dengue IgG/IgM Rapid Test Kit is a new generation rapid Immuno-Chromatographic test using recombinant dengue viral antigens of all four serotypes to detect specific antibody response.
Packaging Details
Dengue IgG/IgM Rapid Test kit contains the following components to perform the assay 1. Test device cassette 2. Assay Buffer 3. Instructions for use 4. Specimen Collection Straw/Capillary Each test contains : 1. One cassette device 2. One pipette dropper 3. One desiccant Each kit contains: 1. 25 cassette devices 2. 1 instruction 3. One bottle of buffer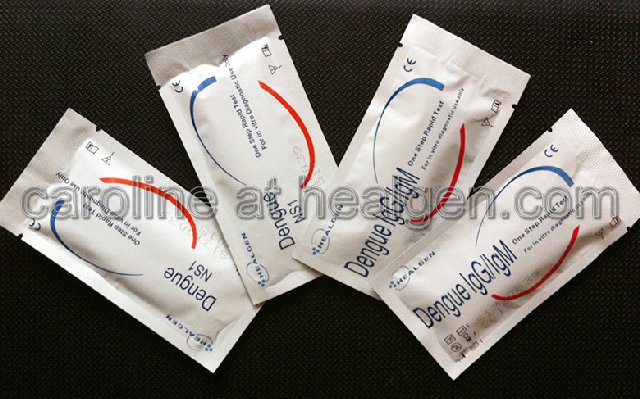 Dengue IgG/IgM Rapid Test Kit
Other Products from this Supplier
Didn't find what you're looking for? Post an RFQ to let the Industry Specialists in MEDinCN.com to match the right suppliers for you!
Zhejiang Orient Gene Biotech Co., Ltd [Shanghai, China]