Zhejiang Orient Gene Biotech Co., Ltd
Syphilis One Step Rapid Test
Product Details:
| | |
| --- | --- |
| Properties | |
| Brand Name | HEALGEN;ORIENT GENEN;DS(DIAGNOSTAR) |
| Model Number | |
| Place of Origin | China |
Payment & Shipping Terms:
| | |
| --- | --- |
| Price: | USD 0.00 / Piece |
| Minimum Order Quantity: | 10000 |
| Port: | |
| Delivery Time: | 25 Days |
| Payment Terms: | |
| Supply Ability: | 500000 Piece/Pieces per WEEK |
Detailed Product Description
Intruduction:
Syphilis is a disease caused by Spirochete bacterium called Treponema pallidum (TP). If untreated, the organisms move throughout the body and can cause damage to many organs, making syphilis a life-threatening disease if not treated early fully. The serological response to syphilis involves production of antibodies to a wide range of antigens, including non-specific antibodies and specific anti-TP antibodies. The first detectable response to infection is the production of specific anti-treponemal IgM, which can be detected within 4 to 7 days after the chancre appears and until the end of the second week of infection; anti-treponemal IgG appears at about four weeks later. By the time syphilis disease symptoms develop, most patients have both detectable IgG and IgM.
Principle:
The TP One Step Rapid Test is a lateral flow chromatographic immunoassay based on the principle of the double antigen–sandwich technique. In this test procedure,
recombinant Syphilis antigen is immobilized in the test line region of the strip.
After specimen is added to the specimen well of the device, it reacts with Syphilis antigen coated particles in the test.
This mixture migrates chromatographically along the length of the test strip and interacts with the immobilized Syphilis antigens.
If the specimen contains Tp antibodies, a coloured line will appear in the test line region indicating a positive result.
The double antigen test can detect both IgM and IgG in specimens. If the specimen does not contain Tp antibodies, a coloured line will not appear in this region, indicating a negative result.
To serve as a procedural control, a coloured line will always appear in the control line region, indicating that proper volume of specimen has been added and membrane wicking has occurred.
Packaging Details
Each test contains : 1. One cassette device 2. One pipette dropper 3. One desiccant Each kit contains: 1. 25 test devices 2. One instruction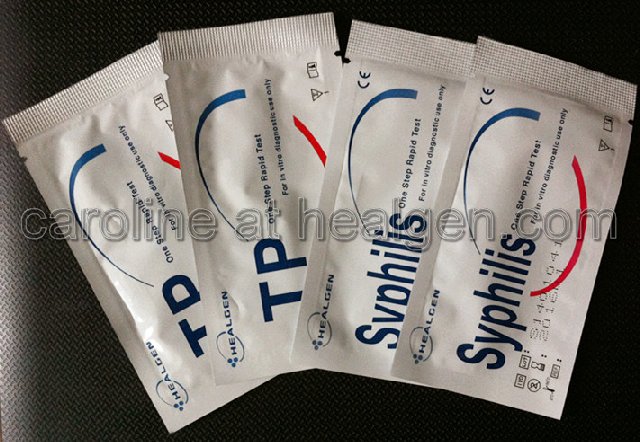 Syphilis One Step Rapid Test
Other Products from this Supplier
Didn't find what you're looking for? Post an RFQ to let the Industry Specialists in MEDinCN.com to match the right suppliers for you!
Zhejiang Orient Gene Biotech Co., Ltd [Shanghai, China]