| | |
| --- | --- |
| | Jiangxi Hongxin Medical Devices Co., Ltd. |
Automatic-Exhaust Infusion Set (PC31)
Product Details:
| | |
| --- | --- |
| Properties | Injection & Puncture Instrument |
| Brand Name | hongxin |
| Model Number | PC31 |
| Place of Origin | China |
Payment & Shipping Terms:
| | |
| --- | --- |
| Price: | USD 0.00 / Piece |
| Minimum Order Quantity: | 0 |
| Port: | |
| Delivery Time: | 30 Days |
| Payment Terms: | L/C,T/T |
| Supply Ability: | |
Detailed Product Description
1. Exhausting automatically.
2. Simple operation, no need to squeeze the chamber
3. No any air bubble appearing in the tube
Composition: This product is mainly consisting of spike, air filter, drip chamber, PVC tube, flow regulator, liquid filter, injection add, exhaust pipe, taper connector, neilsbed and other parts.
Products description:
This is our new patent product. (Patent number: ZL03 2 0549.9 ZL99 2 43170.8… …)
It is different from the traditional one because it can exhaust automatically. It is simple, safe and economical. The specialist for this product is an exhaust pipe inside the drip chamber, its end connect with the tube. The top of the exhaust pipe is tilted; when the liquid trickle into the drip chamber the extra gas will be automatically discharged by the exhaust pipe. Provide the liquid over hole of the exhaust pipe, and then the liquid will trickle into the below tube. All the extra gas was discharged before the liquid trickling into the below tube, there is no bubble made of, and to be automatically exhaust. The residual liquid below the exhaust pipe hole can't be discharged washed and can't use any more, to achieve self-destructive role.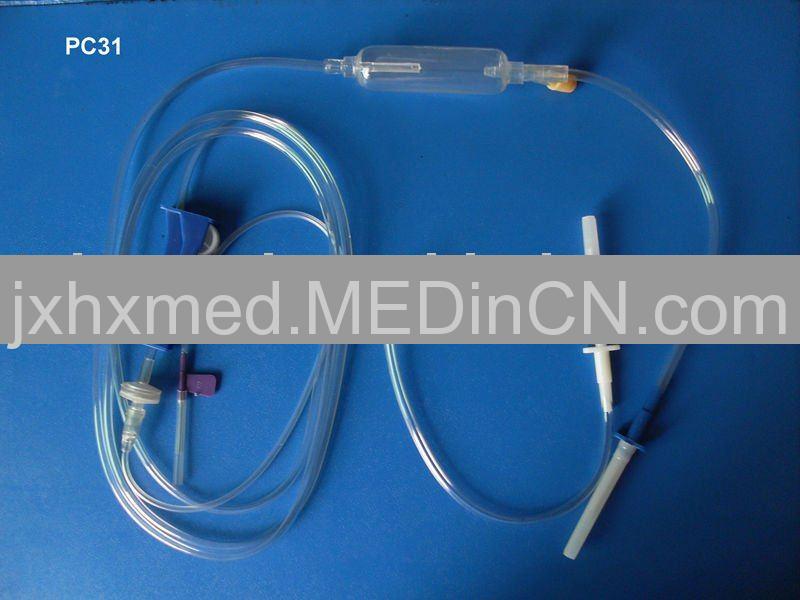 Automatic-Exhaust Infusion Set (PC31)
Other Products from this Supplier
Didn't find what you're looking for? Post an RFQ to let the Industry Specialists in MEDinCN.com to match the right suppliers for you!
Jiangxi Hongxin Medical Devices Co., Ltd. [Nanchang, China]